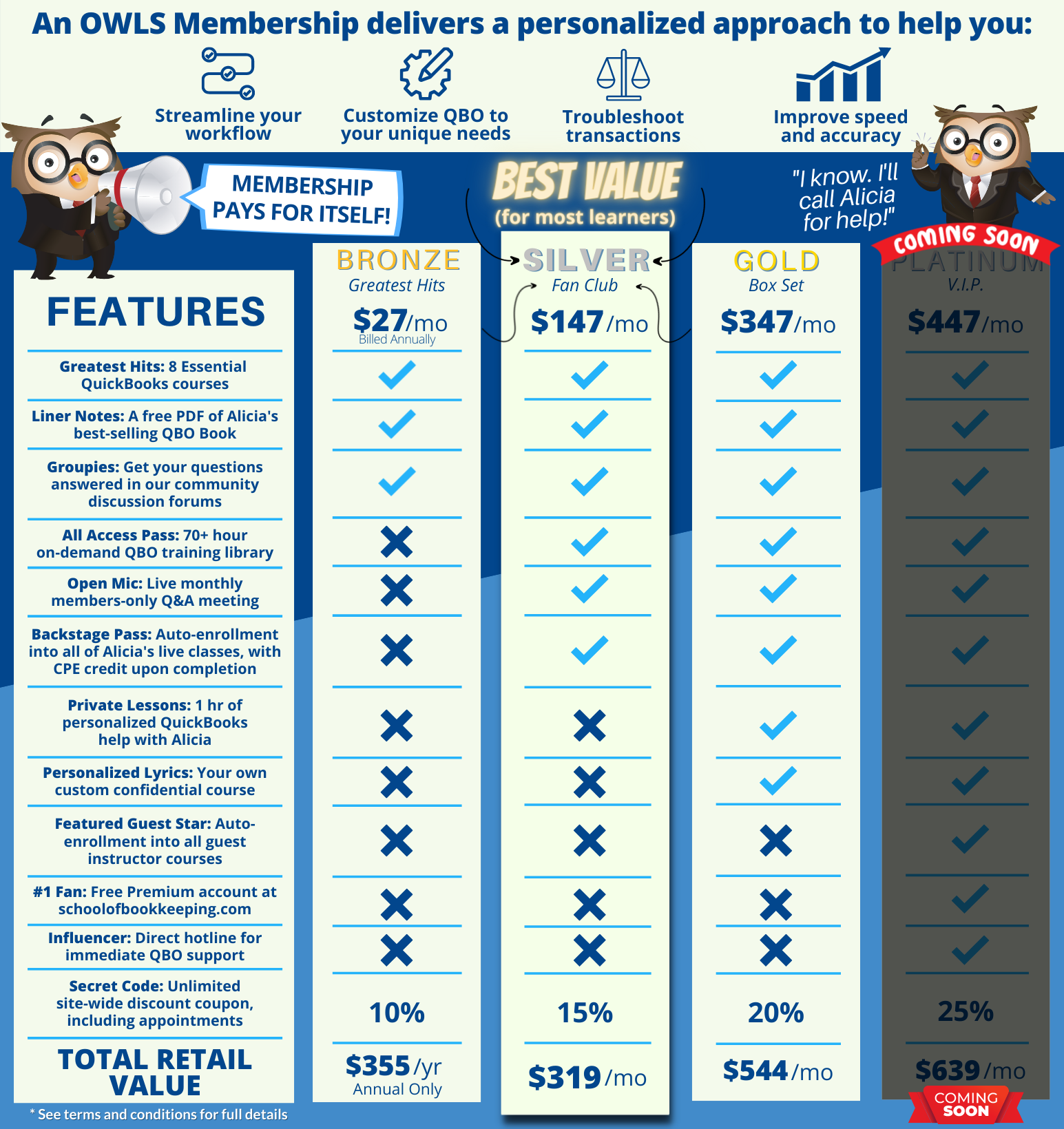 Diva in to QBO Rock Star Alicia Katz Pollock's
Bronze "Greatest Hits" membership!
Get up and running fast by taking the fundamental courses every business owner needs:

The QBO Bootcamp, a deep dive into the Banking Center, how to reconcile your bank accounts, and then run reports so you can see how your business is doing. 

As QBO evolves, we'll update your videos at no extra cost to you.
Every month you'll receive a coupon code for 10% off any live class, guest instructor class, or even topics from our Microsoft Office and Apple libraries:
The code has unlimited use during that month - add as many classes as you want!
You'll receive lifetime access to all courses purchased with your coupon, even if you're no longer a member.
The discount also applies to appointments with Alicia.
Groupies: 

Participate in the QBO Members Community Group
A QuickBooks Members group for all community members to get announcements and talk to each other.

The

 

Class Discussions board

 

is a help forum for asking questions about how to use QBO. Alicia pays close attention to questions here.
The

 

News

 

is where Alicia makes announcements, and there's a newsfeed with accounting articles you may find interesting, along with special offers exclusive to members only.

Fill out your

 

profile in the upper right to network with other members.
The

 

Wisdom Quest

 

- you receive points for every video you watch. Earn a

 

webcam cover, a t-shirt, discount coupons, and an hour with Alicia! If you leave a review after you complete a training, Alicia will kick you down extra points.
Liner Notes: 

Download a copy of Alicia's book
"Alicia is an amazing, confident, and very patient teacher. She showed us shortcuts, useful reports, and how to make the most of QuickBooks. It is a very fast and efficient way to learn. We highly recommend her."
---