This QuickBooks Online tutorial for beginners teaches small business owners and bookkeepers how to use all QBO's essential tools and workflows to track its income and expenses for taxes and business success.
"Hands down, the most comprehensive QuickBooks Online course out there; great for
beginners & certification seekers!" - Hector Garcia, CPA
Atten-hut!
Basic Training, often known as, "bootcamp", is an introduction to the Army, and where recruits learn the traditions, tactics and methods of becoming a soldier.
And much like U.S. Army Bootcamp, my QuickBooks Online Bootcamp requires courage, discipline, and a hunger for excellence. 
It's hard work…but that doesn't mean it requires sacrifice!
Unlike U.S. Army Bootcamp, in my QBO Bootcamp I will encourage you instead of yell at you, hold your hand instead of force you to march, and you DEFINITELY won't have to clean the privy with your toothbrush.
When we're through, you will have the QBO skills to solve any problem, conquer any transaction, silence your doubts, and tackle any task.
You will become a pillar of bookkeeping excellence, capable of handling whatever is thrown your way with strength, dignity, and grace.
Learn QuickBooks Online with Alicia in this 'QBO Bootcamp' course
Intuit's QuickBooks Online (QBO) is the number one accounting software with millions of customers! It is both extremely useful and easy to use...once you learn how.


If you are a small business owner or bookkeeper that has never used QuickBooks Online, this is the course you need to take.

Alicia has designed this QBO Bootcamp course to be approachable and absorbable so you gain a solid understanding of how QuickBooks software works. With step-by-step guidance & small, easily digestible segments for better long-term comprehension, Alicia will cover everything you need to quickly get up and running.

By the end of this course, you will have learned how to easily manage your company's daily workflow using QuickBooks Online and be able to run insightful reports to analyze growth.
Getting Started: I'll demonstrate

 

the vital importance of bookkeeping, how to choose the correct version of QBO for your needs, & how to properly set up your file.
Banking: We'll also explore the Banking Center, which runs the

 

automation that connects QBO to your bank

 

for easy data entry.
Customers:

 

I'll cover all the crucial Customer & Accounts Receivable tasks, including how to create invoices for your customers &

 

workflows for getting paid quickly.
Vendors: We'll tackle Vendors, Accounts Payable, &

 

all the ways you'll record your company's expenses.
Reports:

 

Then we'll learn how to run the key

 

reports that show how well your company is doing!
Tools:

 

Explore other features in QBO

 

that help you enjoy the software.
What's included with this course?
Get up & running with QuickBooks free from worry or anxiety. By choosing to learn QBO with me, you not only get access to an expert, you'll also become part of a community of business owners who share a common goal, & WANT to help if you get stuck.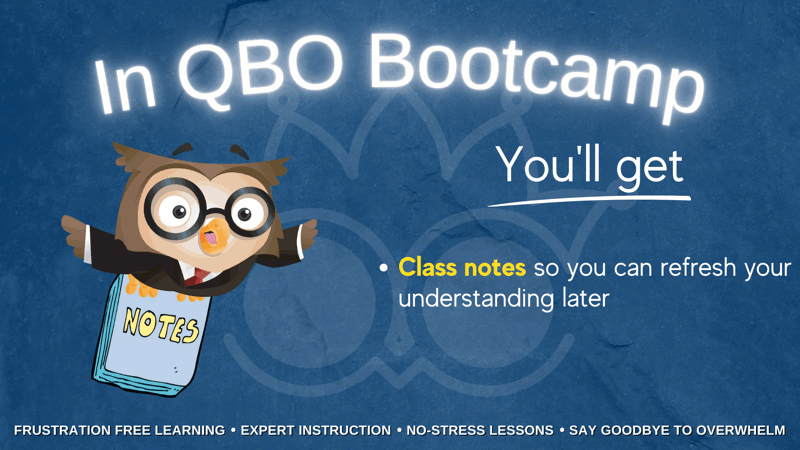 When you purchase 'QBO Book Club,' you'll get:
Class notes

 

so you can refresh your understanding later
Quizzes

 

after each module so you can check your knowledge & make adjustments as needed
A

 

digital copy of my book,

 

"Master Intuit QuickBooks Online"

 

to follow along during the course
6 hours of

 

easy-to-follow step-by-step video instruction

 

with Top 10 QuickBooks Proadvisor Alicia Katz Pollock 
Exclusive access to a community discussion board where you can get answers to all your questions as early as the same day!
You'll have lifetime access to the materials so that you can go back & watch the recordings to your heart's content. The Q&A Forum will also always be there for you to ask questions down the road when new issues pop up!
Discover why passionate business owners like you are getting excited for 'QBO Bootcamp'
Find out what you've been missing. See what prior learners have to say about their journey with Alicia & her QBO Bootcamp.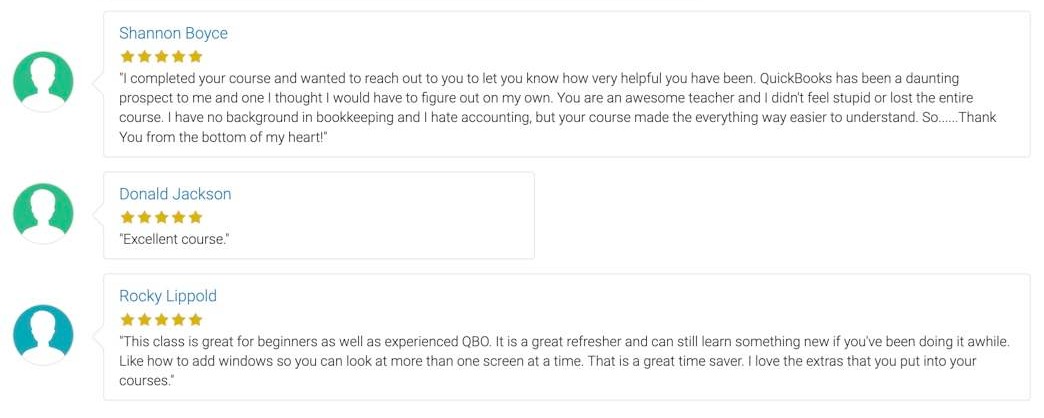 What You'll Learn 
The importance of good record-keeping.

When to hire a bookkeeper and when can you do it yourself?

Common bookkeeping mistakes business owners make.

Setting up QuickBooks®   
 QuickBooks Accounts and Settings.

Creating your Products and Service Items list.

Working with Customers (Accounts Receivable): Estimates, Invoices, Sales Receipts, Payments.

Working with Vendors (Accounts Payable): Bills, Payments, Expenses, Checks.
Running basic reports
Using QuickBooks Online's built-in automation features.
After completing this course, you will be able to: 
Choose the proper QBO Subscription for your needs
Set up a new QBO file
Create sales transactions to receive money from your customers
Create expense transactions to pay your vendors
Use QBO's Banking Center and reconcile your bank statements
Run reports analyzing your company's performance
Instructional Level
Basic
Course Length
10 hours
Course Credits
10.0 CPE, Certificate of Completion
Field of Study
Accounting
Delivery Method
QAS/Self Study
Who should take this class?
Business owners and employees who maintain their company's financial records.

Students and job-seekers looking to boost their employment marketability.

Entrepreneurs and new business owners who are just getting started, and want to make sure they have solid business knowledge so that they can succeed.

Seasoned users looking to glean essential nuggets of information to make using QuickBooks easier and faster than before.

Bookkeepers and Accountants who wish to brush up on their skills.
Other learners purchased these courses after completing this class:  
Explore new topics & join the hundreds of other business owners & accounting professionals who have enrolled in these courses after completing QBO Bootcamp!
       
---
Refunds & Cancellations
Please view our Terms of Service, for information on refunds, cancellations, and complaint resolution. To request a refund, please contact us.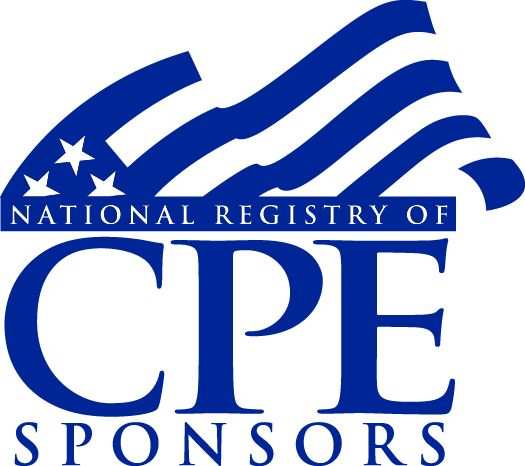 Royalwise Solutions Inc. is registered with the National Association of State Boards of Accountancy (NASBA) as a sponsor of continuing professional education on the National Registry of CPE Sponsors. State boards of accountancy have final authority on the acceptance of individual courses for CPE credit. Complaints regarding registered sponsors may be submitted to the National Registry of CPE Sponsors through its website: www.nasbaregistry.org.



Course Credits: 10 CPE, Certificate of Completion. Must be awarded within one year of enrollment.
Course Updated: December 2021
Course Page Updated: February 2023
Here is the course outline:
This course comes with a free copy of Alicia's book, "Master QuickBooks Online: From Setup to Tax Time."
Download the book here
QBO Fundamentals Slide Deck (Part 1, 2, and 3)
Before we dive into the hands-on, we'll start with an essential overview: the vital importance of bookkeeping, and how to choose the correct version of QBO for your needs.
The QBO Bootcamp Introduction and Agenda
Biz View vs Accountant View
Section 2: Setting up and Customizing QuickBooks Online
When you create your QuickBooks file, be sure to set up all the Settings and Lists so that they address the specific needs of your unique company.
Setting Up QBO
Getting Around in QBO (The Interface)
Navigation Tricks
Creating a New Company File in QBO
Account and Settings Preferences
Adding Users and Permissions
Review Questions: Setting Up QBO
The Chart of Accounts
Products and Services
Classes, Locations, and Tags
Review Questions: Lists, COA, Products & Services
Section 3: Vendors and Banking
We'll look at all the essential Vendors and Accounts Payable workflows. In other words, how to pay Bills from your Vendors, and your workflows for tracking expenses. How does the Banking Feed work? Let's explore the Banking Center, which runs the automation that connects QBO to your bank for easy data entry.
Adding and Managing Vendors
Workflows for Expenses
Purchase Orders
Bills and Payments
Writing Checks
Creating Expenses
Vendor Credits and Refunds
Job Costing and Item Profitability
Review Questions: Vendors
The Banking Center
Reconciling
Review Questions: Banking
Section 4: Working with Customers
We'll look at all the essential Customers and Accounts Receivable workflows. In other words, how to create invoices for your customers, and your workflows for getting paid quickly.
Sales Preferences
The Customer Center
Managing Customers in QBO
Workflows for Getting Paid
Sales Receipts
Invoices and Payments
Merchant Services
Bank Deposits
Estimates and Progress Invoicing
Credit Memos and Refunds
Customer Sales Reports
Review Questions: Customers
Section 5: Transactions, Reports, and Tools
We'll start with additional business transactions that you'll need to keep your records accurate. Then we'll talk about reports - the whole purpose of using QuickBooks is to run accurate reports that help both with business management, and paying taxes. We'll finish up by looking at some of QBO's bells and whistles that may address your company's pain points.
Reports
More Transactions
Recurring Transactions
Journal Entries
Business Features
Review Questions: Additional Transactions
Score 80% or higher on the section quizzes to receive your certificate and CPE credit. Demonstrate your mastery of the material and win points!
Quiz: Setting Up QBO
Quiz: Lists, COA, Products & Services
Quiz: Banking
Quiz: Customers
Quiz: Vendors
Quiz: Additional Transactions
Evaluation & Participation Survey
Quiz: Setting Up QBO
Quiz: Lists, COA, Products & Services
Quiz: Banking
Quiz: Customers
Quiz: Vendors
Quiz: Additional Transactions
Complete this survey for CPE Credit
Completion
The following certificates are awarded when the course is completed:
| | |
| --- | --- |
| | Royalwise CPE Certificate |