Dive deeper into the Apple ecosystem & master your iPhone or iPad. Gain in-depth knowledge of the more advanced topics by taking this class & make the most of your Apple devices.

iPhone/iPad Basics: Mastering Your Mobile Devices 
By now you're at least comfortable using your iPhone or iPad. 

You know how to power your device on and off. You're familiar with the interface. You've configured your settings so now it works in a way that makes sense to you. And maybe you've even discovered some of the more hidden features like the Control Center, Notification Center, or Spotlight Search.

Am I pretty close so far?

If not, you should probably take a step back and enroll in my "iPhone/iPad: Focus on Foundations" class first to get caught up.

But if what I said WAS true for you, you're in the right spot.

In part 2 of this 3-part introductory iPhone/iPad Basics series, we'll take a deeper dive into the practical how-tos of using your device's powerful (but user-friendly) features.

In this course I'll help you make sense of the more advanced topics that you should know as an iPhone or iPad user. I'll show you a variety of ways to navigate your iPhone and/or iPad, such as the 4-corners method, using voice dictation with Siri, and "drawers." We'll go over Siri settings, commands that Siri understands, in-app navigation, common symbols (and what they mean), and how to search the App Store to find games and useful apps.

If that's not enough, I'll even show you how to set alarms, timers, and reminders; check the weather; get answers to your questions; make restaurant reservations; and so much more!

A whole new world will open up for you once you're able to call anyone you want, get directions to anywhere you need to go, and even send text messages and emails without ever touching your device.


Make life easier on yourself—Enroll in "Mastering Your Mobile Devices" right now.
What You
'

ll Learn
Navigating within and between Apps

Common symbols and what they mean

Siri settings

How to talk to Siri

Commands Siri understands

How to use Dictation
Instructional Level
Beginner to Intermediate
Course Length
2 hours
Course Credits
2, Certificate of Completion
Field of Study
Software
Delivery Method
QAS/Self Study/Blended
Who should take this class?
iPhone owners
iPad owners
People afraid to take it out of the box
Experienced users who want to glean every tip they can
Instructional Level
Although this is a beginner class, we specialize in "what you don't know you don't know,"
so even intermediate iOS users will learn new and useful tricks.
Bundle & Save!
Unlock the full potential of your Apple devices with Jamie's Mobile Basics series.

Maximize your iPhone or iPad experience with this comprehensive 3-part iPhone/iPad training series for beginners! Gain valuable skills and the confidence to navigate your Apple devices like a pro. Act now & save 20% when you purchase the bundle for only $135!

Upgrade your Apple understanding and seize this incredible opportunity. Grab this special offer now & start your journey toward mobile mastery today!
Why pay separately when you can save 20% by bundling? Buy all three together & save $27


Other learners purchased these courses after completing this class:  
Explore new topics & join the hundreds of other Apple enthusiasts who have enrolled in these courses after completing this class!


Watch it again later
You'll have lifetime access to the on-demand course including all handouts and class material. You'll also be able to ask questions in the Q&A forum and get answers, even years later. You can pause, rewind, speed up, and watch again and again as you apply what you learn to each situation as it crops up.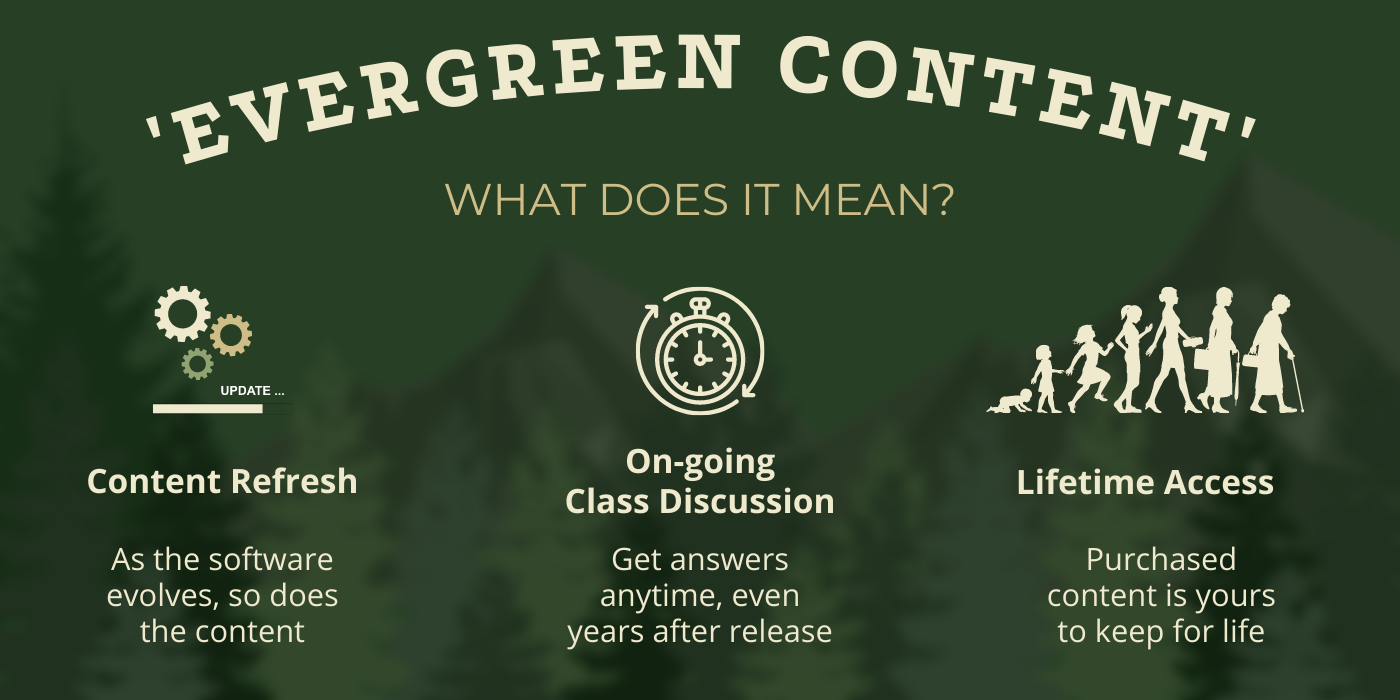 ---
Refunds & Cancellations
Please view our Terms of Service, for information on refunds, cancellations, and complaint resolution. To request a refund, please contact us.
Course Updated: March 2023
Course Page Updated: May 2023
Here is the course outline:
Download the handout that goes with the course.
Download the handout here
2. iPhone/iPad Basics: Mastering Your Mobile Devices (2023)
Dive deeper into the Apple ecosystem & master your iPhone or iPad. Gain in-depth knowledge of the more advanced topics by taking this class & make the most of your Apple devices.
Interacting / Activating SIRI
SIRI Settings
Using SIRI to Send Messages and Launch Apps
SIRI and Dictation
What can SIRI do for you?
Navigating apps
Mastering Safari
Mastering the Mail app
Mastering Messages app and Phone app
Using the Contacts app and Calendar app
Mastering the Maps app (Jamie's favorite app)
The Music app
Final Tips and Tricks
3. Getting Started with SIRI
Hey SIRI, What's the weather going to be like? Hey SIRI, send a text message to my daughter and tell her I love her. Jamie will guide you through the learning curves and cues to confidently and comfortably become best friends with SIRI.
Intro to SIRI
Settings for SIRI
How to Activate and Interact with SIRI
Who/What is SIRI and What Can He/She Do For You?
Having Fun with SIRI
4. Using Voice Commands with SIRI
Sometimes it's a lot easier to just say, "Hey SIRI, tell Jamie I am going to be late for my appointment," versus sending a text or making a phone call. Watch these videos as Jamie explains how to best use SIRI to help ease your life.
Open Apps, Make Calls, Send Text Messages
Sending Emails and Getting Directions with SIRI
5. Helpful Navigation Tips for Most Apps
Jamie explains that your apps like Mail, Music, Safari, they all use very similar navigation cues, symbols, and gestures. Watch this video, again and agin, until you're cruising through apps like a modern day influencer.
Identifying and Using Universal Navigation Cues and Gestures
Apple Mail is designed to be a simple and easy to use app. Join Jamie in these videos and apply what you have learned from iPhone/iPad: All the Basics Part 1 and 2, and the previous lessons from this course. You'll be using your Mail app a lot more, and with more ease after watching these videos.
The 4 Corners Concept
Edit Mailboxes, Handles, "Hamburger" Menu or Toggle Menu
Safari is Apple's internet browser. Do you find it hard to navigate and find your bookmarks, favorites, or reading list? These videos are equipped with all you need to comfortably and casually cruise the interwebs on your iPhone or iPad.
Navigating Safari on Your iPhone or iPad
Bookmarks, Reading List, and Favorites Menus
Tab Menu, Adding a Tab, Closing a Tab, Switching Between Tabs, Private Button
8. Opening and Closing Drawers in Apple Maps app and Apple Music app
The last section of this course focuses on two of Jamie's most commonly used apps. The Maps app, and the Apple Music app both share some of the same navigation cues and icons. Join Jamie in this last section and show off all the skills you learned from iPhone/iPad, Parts, 1, 2 and 3.
Maps App Drawer Utility
The Music App
Take this quiz to demonstrate your mastery of the material. Pass the quiz with an 80% or higher to complete the Course, earn your Certificate, and win points!
Completion
The following certificates are awarded when the course is completed:
| | |
| --- | --- |
| | Royalwise CPE Certificate |