The essentials of managing nonprofits using QuickBooks Online. Join Gregg Bossen to learn the most efficient way to set up your nonprofit's accounting structure using classes, projects, and other QBO features.
Non-Profit Essentials in QBO Course Description
An introduction to QuickBooks Online for nonprofit users. Join national QuickBooks nonprofit trainer, Gregg S. Bossen CPA, to learn the most efficient way to set up Quickbooks to help your nonprofit with all its accounting needs.

Being a Nonprofit doesn't mean you don't make a profit, it means that your mission isn't to make a buck. You have a cause you believe in, and you make a difference in the world. But behind the scenes you may be scrambling...compliance, board members, federal agencies, fundraisers, donors...it takes a lot of organization and management skills!

What if you could see at a glance how much money you made from a gala after all the expenses are tallied? What if you knew exactly how much each donor contributed in the last three years? And imagine your confidence in knowing that your restricted grants were spent in all the right places!

That's where QuickBooks Online comes in. By using Classes, Locations, Tags, and Projects in creative ways, you can slice and dice your NP's financial reporting to get exactly the data you need, when you need it.
Gregg will demystify QBO so that you can spend your time steering the ship and not crunching numbers!
You'll learn about: 
Setting up Accounts
Tracking Programs
Tracking Donors
Tracking Fundraising
Using Classes, Locations, and Projects
Budgeting in QuickBooks
Intro to Tracking Restricted Grants
Q&A time throughout
About Gregg
Since 2000, QuickBooks® Made Easy™'s leader and primary trainer, Gregg S. Bossen, CPA, has been teaching QuickBooks seminars around the country for various groups including Scaling New Heights, QuickBooks Connect, Grant Station, and TechSoup.
Not only is Gregg an expert in the program, but he is the nation's leading expert when it comes to nonprofits that use QuickBooks Online.
Gregg's teaching style is funny and entertaining, and his energy and knowledge of nonprofits make his classes a unique experience.
Instructional Level
Beginner to Intermediate
Course Length
2 hours
Course Credits
Certificate of Completion
Field of Study
Accounting/Bookkeeping
Delivery Method
QAS / Self-Study
Prerequisites 
Familiarity with QuickBooks Online is helpful but not required.
Who should take this NP bookkeeping class?
Nonprofit administrative and financial staff
Nonprofit financial employees
Why pay full price? Sign up for a Royalwise OWLS Membership
and get this course and more for one low monthly price.
Silver membership pays for itself in just two courses per month!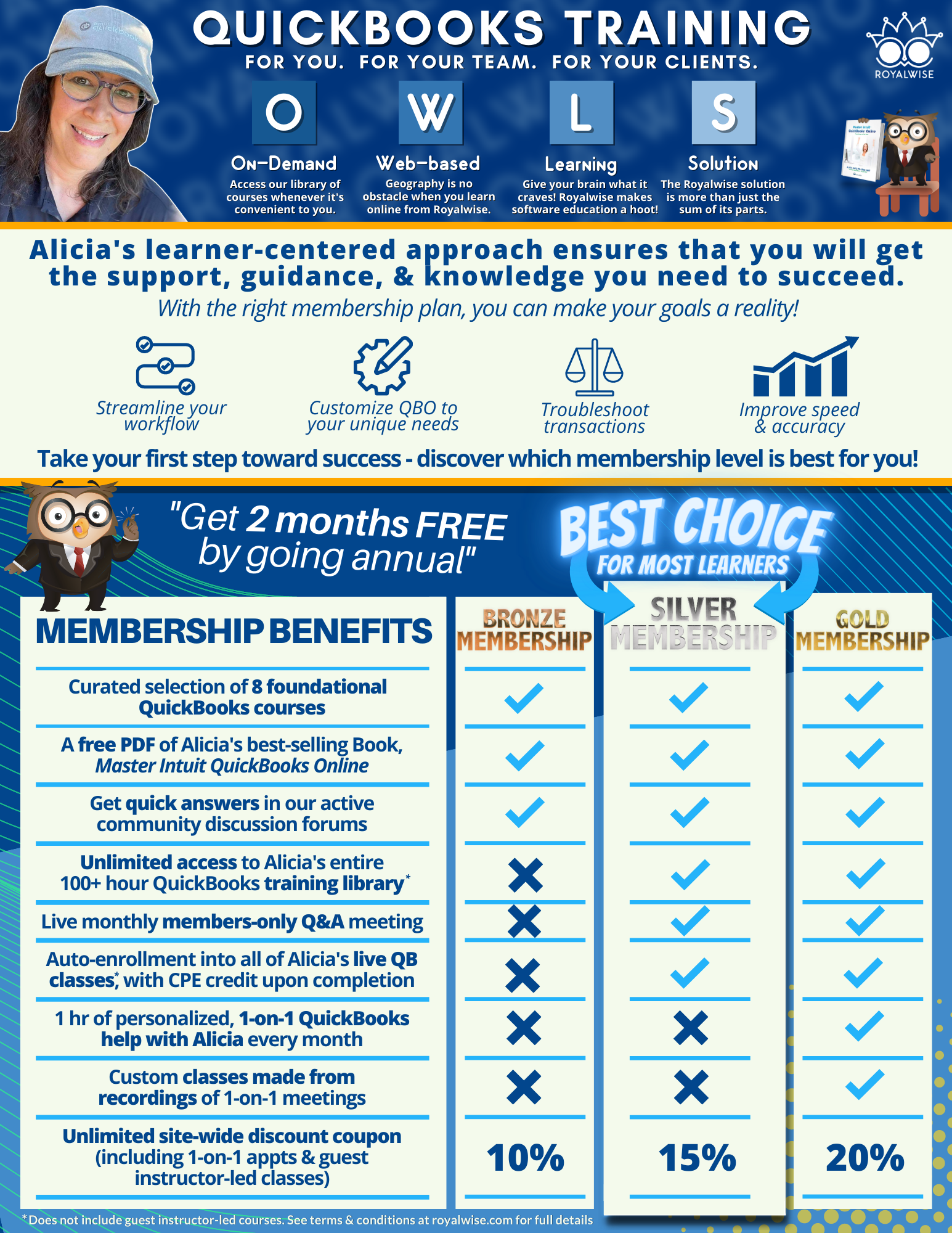 Refunds & Cancellations
Please view our Terms of Service, for information on refunds, cancellations, and complaint resolution. To request a refund, please contact us.
Here is the course outline:
Download your class handout here
Download the handout here
The QBO Royalwise OWLS Road Map Flight Path
2. Watch the Recording - Non Profit Essentials in QBO with Gregg Bossen
This is the recording of the class you attended. Watch and rewatch it until it all makes sense!
Getting Warmed Up
Biz View vs Accountant View
Agenda and Getting to Know QuickBooks Online
Setting Up Income, Expense, and Balance Sheet Accounts
Tracking Programs and Fundraising Using Classes
Tracking Special Fundraising Events
Budgeting
How to Get More Training, Discount Coupons, & Door Prizes
But wait, there's more! Restricted Grants
Take this quiz to demonstrate your mastery of the material. Pass the quiz with an 80% or higher to complete the Course, earn your Certificate, and win points!
Complete this survey to complete the course!
Completion
The following certificates are awarded when the course is completed:
| | |
| --- | --- |
| | Royalwise CPE Certificate |