QBO Bronze Membership, Monthly (Learn to Fly)
Subscription
The Bronze membership is great when you only have a few hours a month but you really want to learn QBO!

•2 hours/mo of On-Demand Classes
•2 hours/mo of Live classes
•Two $54 coupons every month
•QBO Discussion Group
•Lifetime access to everything you watch
---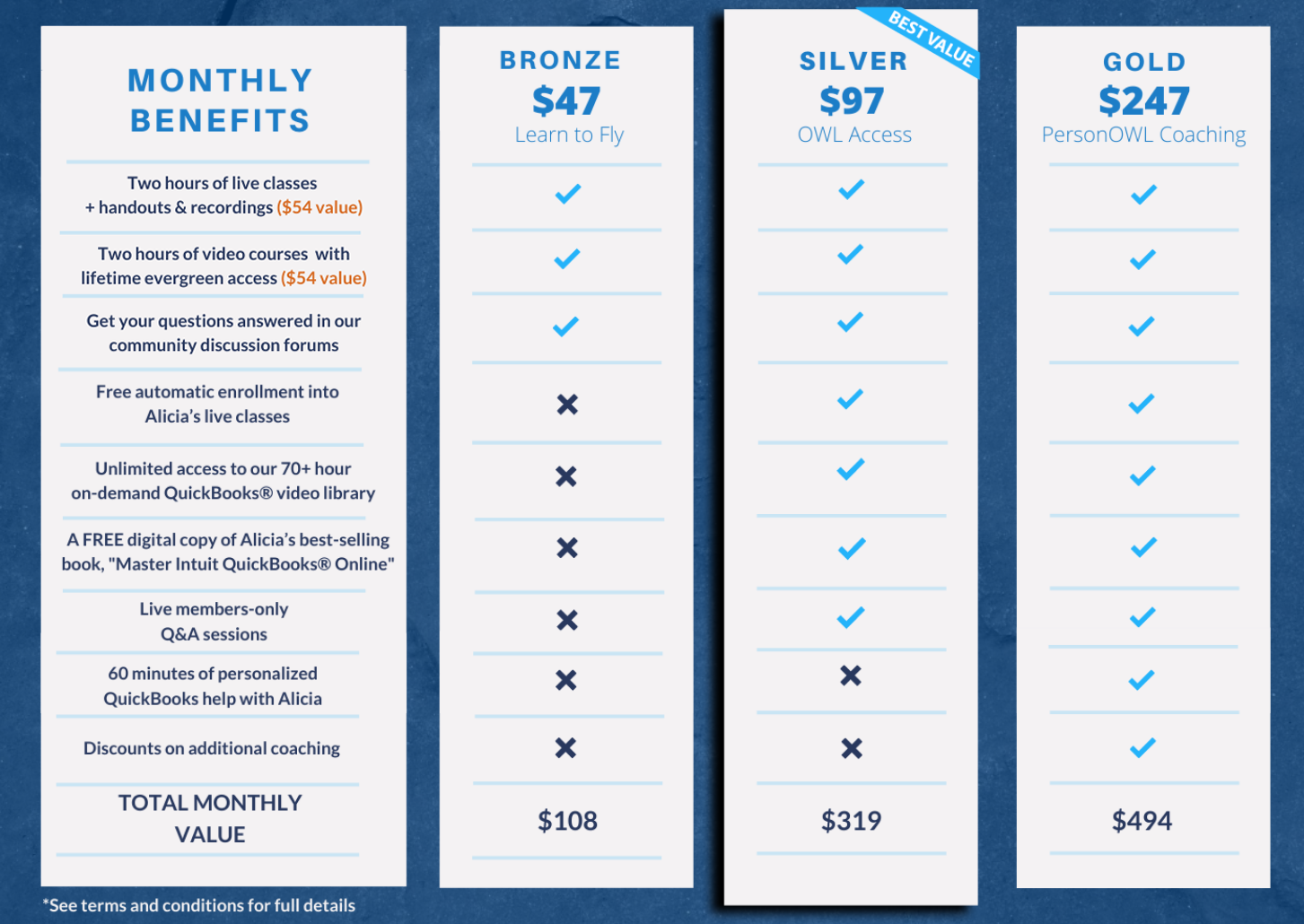 The Bronze "Learn to Fly" QuickBooks Online membership includes:
$54 to use in the On-Demand QuickBooks Video Library
Every month you'll receive a $54 coupon that you can apply to any of Alicia's video courses. Pick the training you need most! Because our courses vary in length, that $54 may get you two 1-hour classes, a free deep dive, or a discount on a longer course. 

$54 to use towards Live Events
Every month you'll receive a second $54 coupon that you can apply to any live class. Whether it's a new topic, an update to an existing course (since QBO changes all the time...), or a guest instructor, you can apply the coupon towards any upcoming webinar on the schedule.
How it works
Every month you'll receive TWO $54 coupons to use anywhere on our website. That's $108 of value every month!
$54 is the equivalent of two hours of class time, so you're getting 4 hours of content of your choice.
Add that month's choice of classes and webinars to your shopping cart, and apply the coupons. 
If what you choose costs a little more, just pay the difference.
All your selections will stay in your OWLS even if you fly away (the longer you stay, the more you'll keep!).
You'll have lifetime access to the videos, recordings, handouts, and discussion boards. Even future updates to the videos as Alicia modernizes the content!
You can also use the coupons to explore our Apple, Microsoft, and Productivity libraries! Take a live class Apple class with Jamie, or learn Microsoft Excel!

QBO Community Discussion Group
Not only does every course have its own Class Discussion board, but members have their own QuickBooks Members community forum for more general how-to questions. Alicia keeps her eye on the board all day long, so you can get answers to your questions asap.
"Alicia is an amazing, confident, and very patient teacher. She showed us shortcuts, useful reports, and how to make the most of QuickBooks. It is a very fast and efficient way to learn. We highly recommend her."