QuickBooks Gold | 'PersonOWL Coaching' (Annual Membership)
Subscription
The Gold membership gives you personalized QuickBooks Online coaching and mentorship. Go Annual and save $654!

•An hour each month with Alicia, recorded
•Your own private discussion board
•Unlimited pass to the QBO Video Library
•Automatic enrollment into Alicia's live classes, with CPE
•A 20% discount on additional classes & training
•1-hour Open Mic meeting with live Q&A
•QBO Community Discussion Group
•A PDF copy of Alicia's QBO book
---
Take flight with Alicia Katz Pollock's
Gold "Person-OWL Coaching" membership!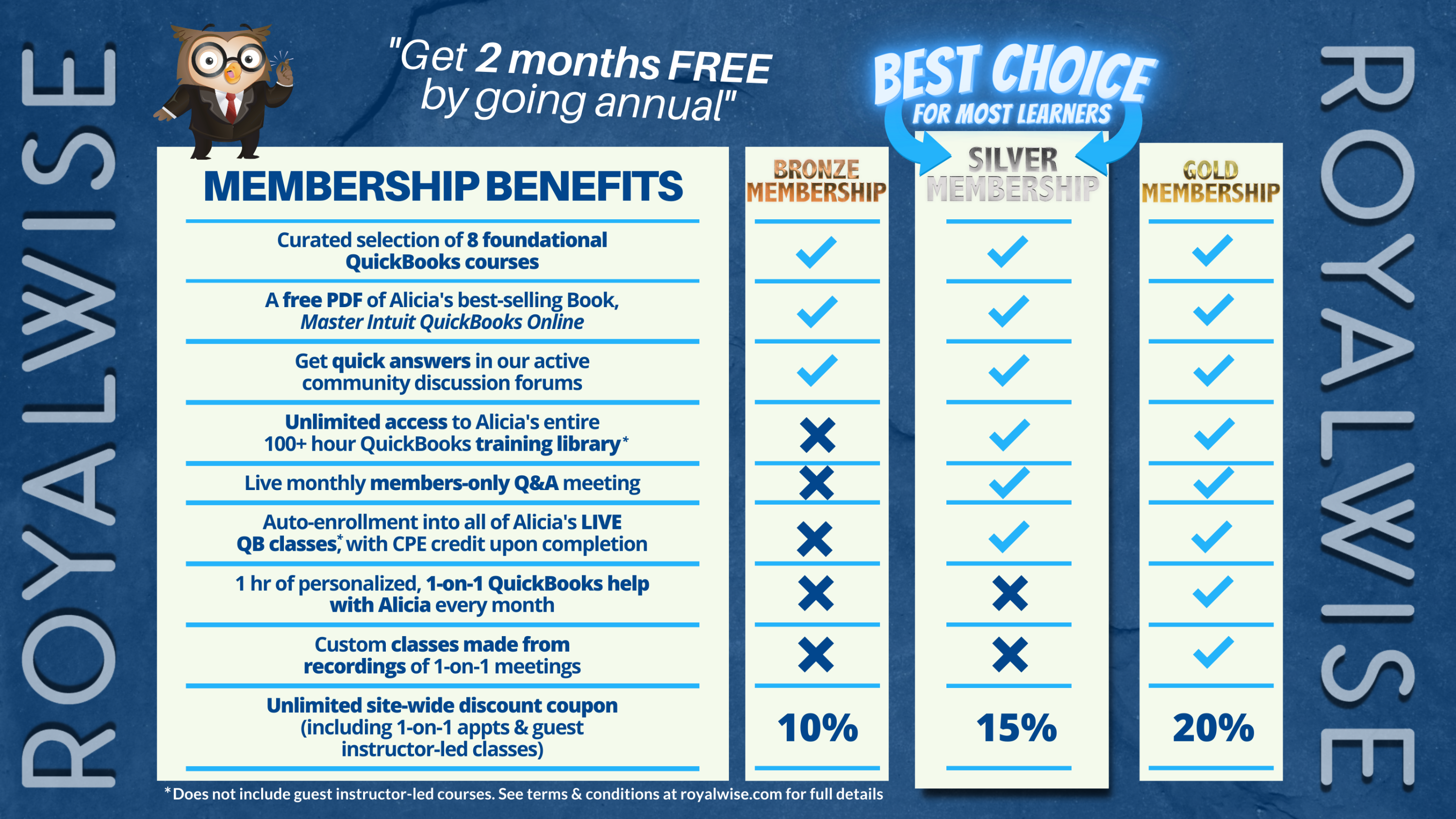 Two months for free
By prepaying for a full year, save $654!
Coaching and mentorship with Alicia
A recurring 1-hour private coaching session every month, plus on-call priority when you need her
An additional 20% discount for sessions longer than 60 minutes
Recordings of every session
Your own confidential discussion board

Use each session for your own bookkeeping, from reconciliations to troubleshooting

Bookkeepers can get help with client files
Get business coaching, and a little good-natured therapy for peace of mind
Whether it's a new topic or an update to an existing course (since QBO changes all the time...), you'll get

 

automatic enrollment into all of Alicia's LIVE classes that month. Simply click the Zoom link in your email when it's time to start! All live events come with lifetime access to the recordings and handouts.
Earn CPE credit by responding to webinar polls and taking the quizzes.

Gain lifetime access to courses
Every month you'll receive an unlimited 20% off coupon to use anywhere on our website.
Use it as a discount to enroll in an event with a guest instructor.
You can also use the coupon to take classes from our

 

Apple, Microsoft, & Productivity

 

libraries! Take LIVE or on-demand Apple classes with Jamie, or learn Microsoft Word, Excel, PowerPoint, and more with me!

All courses purchased with coupons will stay in your OWLS library even if you fly away
Attend the monthly members meeting
On the third Thursday of every month at 1pm PT, Silver and Gold members get their own private workshop with Alicia.

She'll talk about new QuickBooks features and Intuit news...

...and then it's your turn to pick Alicia's brain! In a round-robin, every attendee will get to ask a question. Solve any issues you're having with your books in this exclusive group environment, and learn from other people just like you. You may discover a solution to a problem you didn't even know you had.

Many members have said this is the most valuable part of their subscription.
Not only do members get top-notch QuickBooks Online Training from Alicia Katz Pollock, a Top 10 ProAdvisor, but there are also additional benefits!
A QuickBooks Members group for all community members to get announcements and talk to each other.

The Class Discussions board is a help forum for asking questions about how to use QBO. Alicia pays close attention to questions here.
The News is where Alicia makes announcements, and there's a newsfeed with accounting articles you may find interesting, along with special offers exclusive to members only.

Fill out your profile in the upper right to network with other members.
The Wisdom Quest - you receive points for every video you watch. Earn a webcam cover, a t-shirt, discount coupons, and an hour with Alicia! If you leave a review after you complete a training, Alicia will kick you down extra points.
A PDF of Alicia's Book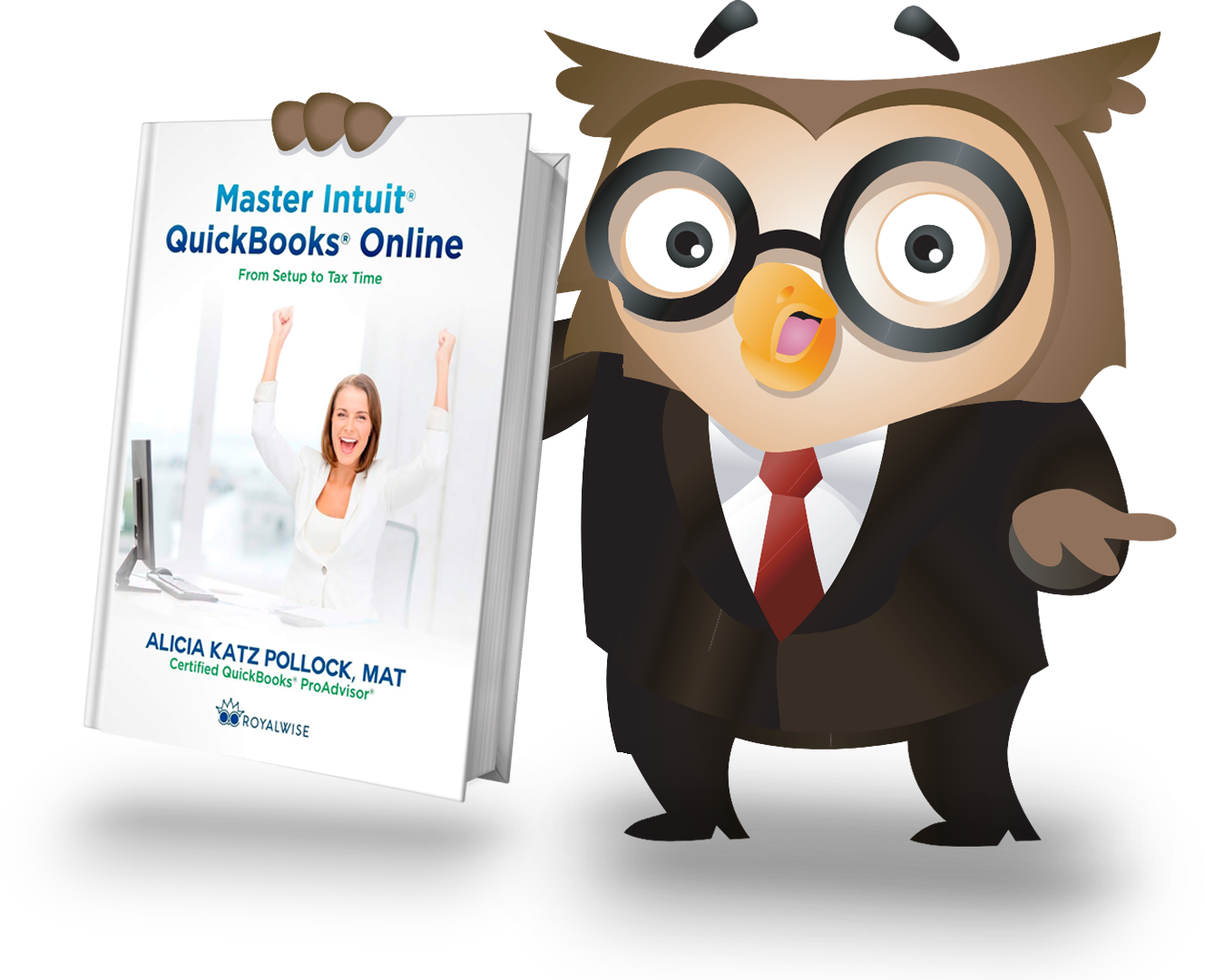 "Alicia is an amazing, confident, and very patient teacher. She showed us shortcuts, useful reports, and how to make the most of QuickBooks. It is a very fast and efficient way to learn. We highly recommend her." 
---